Rooms at the castle
In order to spend a pleasant moment in the quiet and convivial surroundings of the castle, we have prepared for you 12 bedrooms with unique style and personality: 5 traditional and 7 contemporary..
It's up to you to chose your colour between la Nuit Rouge, la Nuit Jaune, la Nuit Blanche, la Nuit verte, la Nuit Ocre on the first floor or between The Orange, The Yellow, The Purple, The Blue and The Red on the second floor.
You will be awakened by the sound of the birds singing in the park and by the sweet smell of the pastries prepared on the spot.
From 145 euros per room* (+ breakfast 15 euros per person) allows you to experience life in a castle for a reasonable budget.
Contact us to book and for more information.
*reservations are necessary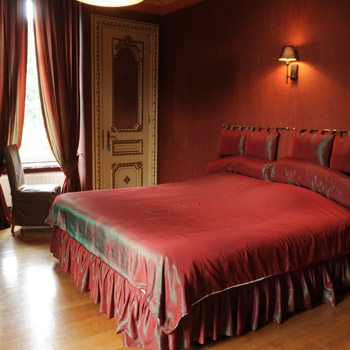 Contact us for more information